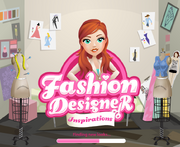 Fashion Designer is an app on Facebook (otherwise called a Facebook game) designed to let users create their own fashions and show those fashions off in various ways.
Creatio'Mall World'. In fact, it used to be named "Mall World's Fashion Designer", until they switched the name and dropped the "Mall World's".
Edit
El juego es simple. El usuario se convierte en diseñador de moda y recibe una serie de proyectos para ser completados por varios clientes que se han convertido en negocios recurrentes para diversos eventos. Para que el mar el juego principal, también hay muchos minijuegos, si quiere, que los usuarios también lo sean participar. Estas incluyen  :
A designer can also send their designs to the market or buy the design for themselves.
There are two types of currency in the game : fashion credits and fashion dollars. Design credits can be earned to unlock en fashion designer?