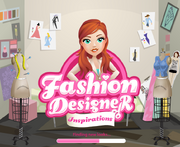 Fashion Designer is an app on Facebook (otherwise called a Facebook game) designed to let users create their own fashions and show those fashions off in various ways.
The game was created by the same people who created the popular game 'Mall World'. In fact, it used to be named "Mall World's Fashion Designer", until they switched the name and dropped the "Mall World's".
The game is simple. The user becomes a fashion designer and is given a series of projects to complete by various clients who will become repeat business for various events. For that being the main game, there are also many mini-games, if you will, that the user can also participate in. These include :
A designer can also send their designs to the market or buy the design for themselves.
There are two types of currency in the game : fashion credits and fashion dollars. Design credits can be earned to unlock items in the shop, which is where details, color palletes, and kits can be bought.