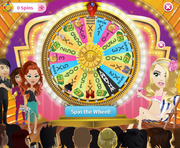 The Wheel of Fashion is a mini game in which users can win prizes by spinning the wheel.
Everyday a user logs in, they are given one free spin on the wheel. Spins do not rollover to the next day, so users will need to use it while they've got it if they want to win. Users can also purchase more spins :
1 spins for 1 fashion credit
5 spins for 3 fashion credits
20 spins for 10 fashion credits [BEST VALUE!]
The Wheel of Fashion is always changing their prizes, but there are always a few that reflect the newest inspiration / fashion show theme.
Whammy - do not get any prizes or free turns.
Fashion dollars - a specific number of fashion dollars ranging from 150-950
Spins - Receive anywhere from 1 - 5 spins.
Fashion credits - Receive anywhere from 3 - 10 credits.
Accessory / clothing - items to use in fashion shows or for a user's avatar
Kit - a new kit
Details - receive a new detail for your use in designs
Ad blocker interference detected!
Wikia is a free-to-use site that makes money from advertising. We have a modified experience for viewers using ad blockers

Wikia is not accessible if you've made further modifications. Remove the custom ad blocker rule(s) and the page will load as expected.